About
Kenyans are a resourceful, adventurous people who are spread across the world including in this vast Northern country. Wakenyacanada.com is an online Media Platform that determined to connect and tell the stories of Kenyans & friends of Kenya in Canada.
In every story we tell, we aim to be a voice for Kenyadians in this beautiful home away from home. Our e-magazine offers a blend of localized news and current affairs from the perspective of our community.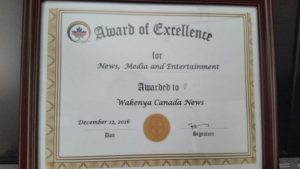 The website owes its success to a great team of volunteer contributors.

For stories in Business, Health, Career Advice, Youth Issues, Parenting, Money Management, Community Events & Gatherings, Obituaries, Immigration & Cultural Affairs, we are a one stop source for Kenyans of different ages and professions.

Contact us to tell your story, advertise an Event, Business or Product; for Writing & Editing services; Video/Photography; Event Promotional; Media Coverage and obituaries.

Email: editor.wakenyacanada@gmail.com; facebook.com/wakenyacanada; Twitter @wakenyacanada

Editor-in-Chief,

Wakenya Canada.

[contact-form][contact-field label='Name' type='name' required='1'/][contact-field label='Email' type='email' required='1'/][contact-field label='Website' type='url'/][contact-field label='Message' type='textarea'/][/contact-form]
It seems we can't find what you're looking for. Perhaps searching can help.
Search