About Us
Kenyans are a resourceful, adventurous people who are spread across the world including in this vast Northern country. Wakenyacanada.com is an online Media Platform that is determined to connect and tell the stories of Kenyans & friends of Kenya in Canada.
In every story we tell, we aim to be a voice for Kenyadians in this beautiful home away from home. Our e-magazine offers a blend of localized news and current affairs from the perspective of our community.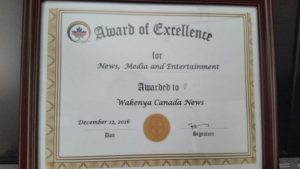 The website owes its success to a great team of volunteer contributors.
For stories in Business, Health, Career Advice, Youth Issues, Parenting, Money Management, Community Events & Gatherings, Obituaries, Immigration & Cultural Affairs, we are a one stop source for Kenyans of different ages and professions.
Contact us to tell your story, advertise an Event, Business or Product; for Writing & Editing services; Video/Photography; Event Promotional; Media Coverage and obituaries.
Wakenya Canada is a member of the National Ethnic Press and Media Council of Canada (NEPMCC).
Essie W.
Editor-in-Chief,
Wakenya Canada.
Email: editor.wakenyacanada@gmail.com; facebook.com/wakenyacanada; Twitter @wakenyacanada
It seems we can't find what you're looking for. Perhaps searching can help.
Search